Wands, Wings and Sparkle at the ready - Emma Barton announced at Fairy Bon Bon!
News
16 July 2022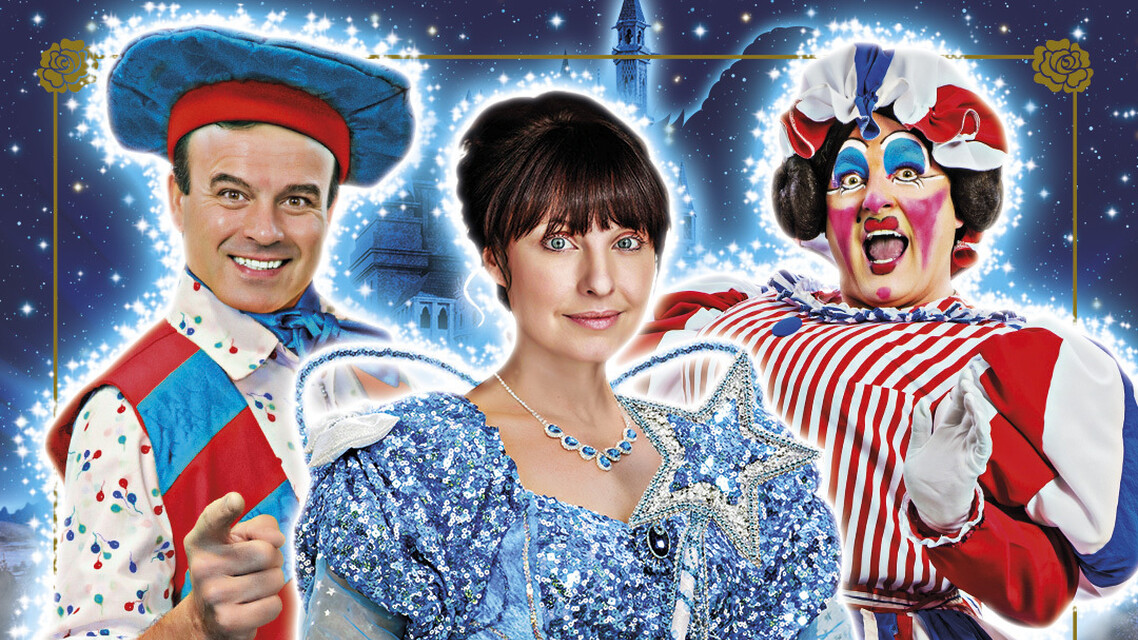 News Story
EastEnders actress headlining the cast of Beauty & the Beast
This year's Pavilion pantomime cast sees Emma Barton (Honey Mitchell) swapping EastEnders' Albert Square for the panto stage, as she puts on her wings and takes on the magical character of Fairy Bon Bon, in the spellbinding production of Beauty and the Beast. Star of both stage and screen, Emma has previously taken the lead roles in pantomimes and has appeared on stage in Bournemouth before, as Roxy Hart in Chicago the Musical in 2009. Emma said: "I am very much looking forward to returning to the beautiful Pavilion Theatre in Bournemouth to be a part of this year's spectacular pantomime production of Beauty & The Beast. I'll be spreading some magic playing Fairy Bon Bon, a show not to be missed! Christmas wouldn't be Christmas without a trip to the theatre. Look forward to seeing you all there."
Beauty & The Beast tells the story of Belle who finds herself imprisoned in an enchanted castle by a prince who has been transformed into a hideous beast by an evil sorceress. In this version of the story, Fairy Bon Bon is there to make sure everything goes to plan, that Belle is safe and of course that there is a happy ending. But will Belle see beyond the beast's appearance and fall in love with her captor? Will the beast return to the world he once knew and win Belle's heart? Get set for side-splitting comedy, sumptuous costumes, fabulous scenery and thrilling transformation scenes. Emma joins panto favourite Noel Brodie as Louis La Plonk – set to cause fun and chaos, with further star casting to be announced. Beauty and the Beast is on from 3 December to 2 January.

Producer Martin Dodd said "We are delighted to be celebrating our 21st annual pantomime at the fabulous Pavilion Theatre and couldn't be happier that Emma Barton has agreed to join our resident funny man Noel Brodie to ensure we have magic, sparkle and laughs in equal measure.

This is the first time we have staged our new and award-winning production of Beauty and the Beast at the Pavilion and we know it is a sure fire crowd pleaser."

Notes: This traditional family pantomime, written by Jon Monie, won Best Script at the Great British Pantomime Awards 2019, been praised with 5star reviews and broken box office records and is produced by UK Productions. This year marks their 21st pantomime at the Pavilion Theatre.
About Emma Barton Emma can currently be seen playing series regular Honey Mitchell in 'EastEnders', a role she originally played between 2005 to 2008, and also for a brief stint in 2014. Other television credits include 'You, Me and Them' for Hat Trick and 'Spooks' and 'Doctors', both for BBC.

In addition to her screen credits, Emma is also an accomplished stage actress, most recently being seen playing Dolly in the National Theatre's production of ONE MAN, TWO GUVNORS on it's UK tour which was immediately followed by JERRY'S GIRLS when it transferred to Jermyn Street Theatre. Emma's other numerous stage credits including CHICAGO, GREASE & THE SECRET GARDEN in the West End. Emma could be seen dancing her way into the finals of 2019's Strictly Come Dancing, being the final girl standing, having never been in the dance-off.
About Noel Brodie Noel Brodie has been the resident comic at The Pavilion since 2014. In 2021, Noel wrote and directed Parkdean Resorts' Pantomime, Aladdin, which has played to over a quarter of a million holiday makers. As a stand up, Noel has performed all over the world, including cruise shows onboard liners such as P&O's brand new flagship, the incredible IONA. Noel also tours with football legend, Harry Redknapp. The pair have worked together since Redknapp spotted Brodie in the Pavilion's 2018 panto, Sleeping Beauty. They have even played the Royal Albert Hall.
About UK Productions UK Productions was formed in 1995 to produce musicals, plays, and pantomimes, for which they are now one of the country's most prolific producers. They have produced shows all over the world and in the West End, with one of their most recent hit productions The Kite Runner recently starting previews in New York on Broadway ahead of a 21st July opening. The 2022/23 season will see them producing eleven pantomimes from Bournemouth in the south to Sunderland in the Northeast and all points in between. They have their own production facilities and will also supply sets, costumes, and props to over forty productions during this period for other producers and theatres.

For more information visit ukproductions.co.uk

About Bournemouth Pavilion Bournemouth Pavilion is operated by BH Live in partnership with BCP Council. This Grade II listed venue opened in March 1929. It has a 1,500-seat theatre and full-sized ballroom. The venue hosts musicals, opera, ballet, pantomime, comedy, gala dinners, banquets, receptions, fairs, dances and fashion shows throughout the year. Its facilities complement events at Bournemouth International Centre and for corporate presentations, product launches, and smaller conferences and exhibitions. Bournemouth Pavilion is also home to Pavilion Dance South West (PDSW) and the Pavilion at AUB rehearsal and teaching space for the Arts University Bournemouth. and group discounts available from bournemouthpavilion.co.uk