Guitar hero and Britains Got Talent star at LOL Comedy Club this Friday
News
19 December 2022
News Story
The guitar posturing, electric tennis racket playing chameleon of comedy, Pierre Hollins, has spent years crafting his laugh out loud sets and has been an audience favourite on the comedy circuit for many years. He has a stage presence and delivery style that is the envy of many of his peers and he still appears as fresh today as the day he started.
He has headlined at clubs throughout the UK, Europe, The Middle East and Asia and also has numerous TV writing experiences such as for Bodger and Badger (CBBC) and Waking Up With Winona (Disney Channel).
Appearing alongside many a comedy legend in his time such as Alexei Sayle, Hugh Lorrie and Stephen Fry. This compelling act has to be seen to understand just how funny it is!!!
Often cited as the unsung hero for comedy, the gods bow down at Hollins' guitar hero feet and after you've seen him you will too so be prepared for this comedy veteran to hit you with some effortlessly flippant rock and roll comedy.
Other intriguing facts:
Pierre Hollins used to perform as a comedy acrobat and unicyclist.
His first guitar was a one-string electric squash racquet (which he still uses at festival gigs)
He used to wash dishes in the House of Commons.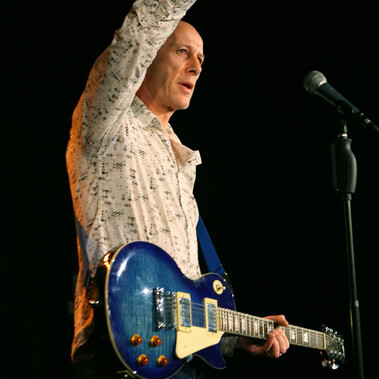 Hugely talented, hugely experienced, comedy maestro

KOMEDIA
We've been booking Daliso Chaponda for almost a decade now but you'll recognise him from placing 3rd in Britain's Got Talent in 2017 and he's gone on to amass over 100 million YouTube views, write and star in his critically acclaimed Radio 4 show Citizen of Nowhere, and appear on QI, The Apprentice: You're Fired, News Quiz and The Now Show.
Not many comedians are a raving success in every continent across the globe but Daliso has breezed to success just about everywhere. Beginning his comedy career in Canada at the prestigious The Just For Laughs Festival in Montreal, subsequent appearances including CBC Television's 'Trans Canada Comedy Trail' confirmed his position as Africa's top comic.
He also received a golden buzzer from Amanda Holden in the 11th series of Britains Got Talent. She later added "He's self-deprecating, funny, relevant – laugh after laugh after laugh. It just kept coming. And I really want him to win the entire series. I think he could".
The 38-year-old comedian from Malawi and won over millions of fans with his cutting remarks about living as an African in Britain.
Daliso shot to fame on Britain's Got Talent. Since then, has gone on to great success, with his new BBC Radio 4 show Daliso Chaponda: Citizen of Nowhere and this year began his first world tour but we've still managed to book him for you and so come and laugh like a drain at one of the globe funniest acts.
Absolutely took the roof off

The Guardian
Andrew White is Bournemouth's funniest Hampshire grown comedian. He joins the bill here as your MC and host – fantastically funny. Despite performing as internationally wide afield as Toronto & Berlin he remains a South coast boy at heart and is flamboyantly repressed and optimistically cynical, with an act that's "not to be missed" (Daily Record).
He has an impressive online comedy presence alongside his live work, writing and premiering a full Eurovision parody show; co-creating the award-winning online comedy night Gigless, and racking up over 5 million views and 800,000 likes for his sketches and stand-up clips on TikTok.
Alongside his own sketch and sitcom projects, Andrew's writing work includes credits for radio, stage shows, and TV formats; as well as developing material for other comedians. His writing has even seen him script online comedy ads for major companies like Samsung, Adidas, LadBible, Domino's, Bumble, Sky, and M&S.
Andrews is also recommended by superstar Joe Lycett who says "Andrew White is a very exciting and very funny act with accomplished and unique stage presence and some lines that made me annoyed I hadn't written them!"
Andrew White's comedy act is not to be missed!

Daily Record
This cracking line up comes to the Bournemouth Pavilion Ballroom on Friday 23 December. Click here to book your tickets.

All line ups are subject to change, but don't worry, we'll only replace them with someone just as funny!